I'm so excited to introduce SPARKLE Method. I love talking about all the ways that you all sparkle, that I just had to turn it into a checklist – and this method is all about what to check in on, with each of your IVF monitoring visits. Whether you're #eggfreezing or doing #IVF this SPARKLE Checklist is for you!
Let's break this down:
Size of follicles: Knowing the size of your follicles matters. It guides you and your doctor about how many mature eggs to expect at retrieval time. Mature eggs are the goal in IVF. Follicles over 17 mm have the highest likelihood of being mature. Size matters 🙂 
Plan, Pyramid: The plan from one visit to the next is something you want to know with each visit. Make sure you know what medications you need, the instructions and possible side effects. You don't want to find out before it's too late you need to add a med that you don't already have at home. Get an update on what your IVF pyramid looks like from one visit to the next.
You've heard me talk about your IVF Pyramid all the time. Attrition from the beginning of the IVF cycle until the end is quite normal.  Dr. Catherine DeUgarte has coined the phrase "half of a half of a half" when it comes to the attrition we see in IVF. Knowing what your personal pyramid looks like along the way as you're going through IVF helps you to have the right set of expectations. Try and do your best to think of gaining the follicles that are meant to give you eggs along the way rather than losing follicles. It's natural to feel bad if you start off with a certain number of follicles and then get less growing. I always want 100% of the starting follicles to grow too.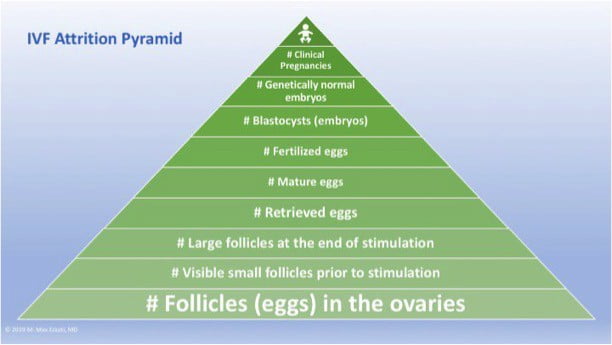 Are you happy? This is something I tell patients and something I want you to ask your doc too. Are you happy with what you're seeing? You don't want to find out too late that your doc wasn't happy with how your cycle was going. Asking this gives you an opportunity to decide if you should regroup before you go through a cycle that may not work.
Lining: The lining of your uterus will thicken as you take the fertility shots. Whether you're doing a frozen or a fresh embryo transfer knowing how your lining responds to meds helps. This will give you a good idea about what to expect when you're ready to transfer
Estrogen level: As your eggs grow your estrogen levels rise.. We use the estrogen level to reassure us that everything is going well in your cycle,to adjust medications, and to calculate the safest dose of the trigger shot.
Now go on and sparkle at each of your monitoring visits.